Photoinitiator free UV-curing DirectCure
The direct initiation of polymerization and crosslinking of acrylates by high-energy photons  is called photoinitiator free UV-curing. The acrylate molecule itself forms the "chromophor" needed for the radical formation. Patent pending.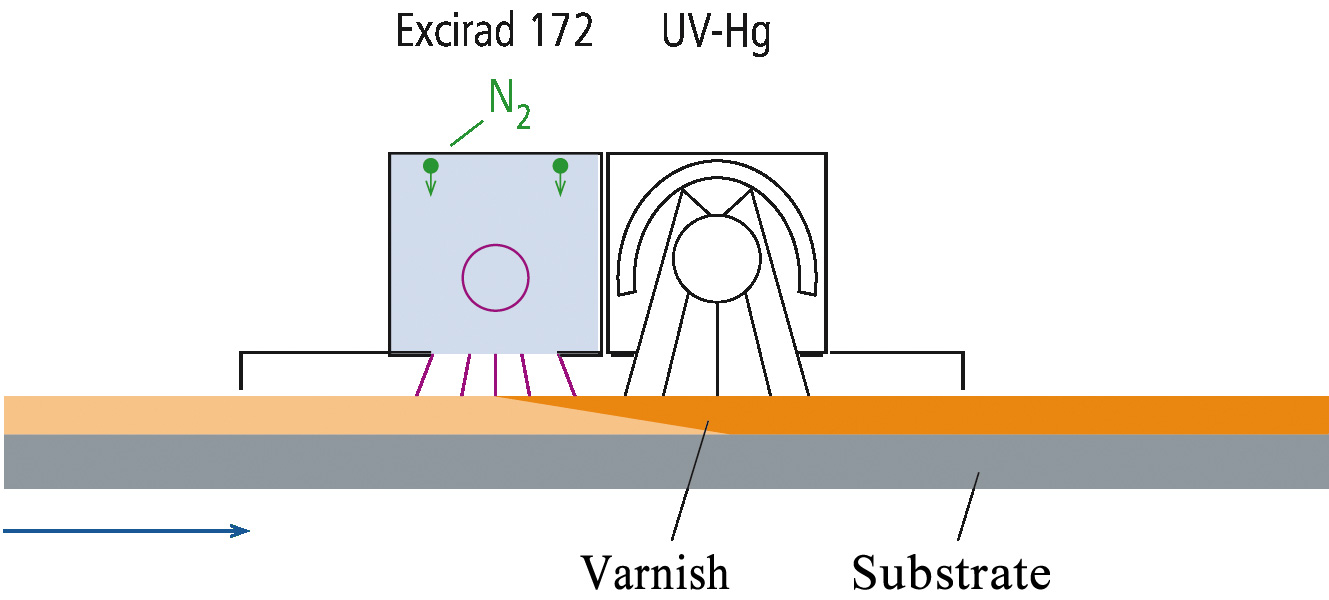 Benefits of photoinitiator-free UV curing
1. Highest output from direct excitation of the acrylate double bond:
Improvement of chemical and temperature resistance
Better mechanical properties
Better light and weathering stabilitiy.
Crosslinking of fixed systems (UV water-based coatings) and post-crosslinking of polymers with residual double bonds efficient possible
Crosslinking density higher than with EBH (Electron Beam Hardening)
no negative influence to the substrate as EB on Paper, PVC, etc
2.  No or very low (<0.5%) concentrations of photoinitiators required, resulting in:
Significant reduction of migration and VOC (Volatile Organic Compounds) emission
No "UV odor"
Limit values for migration from food packaging can be adhered to.
Migration and VOC emission similar to EBH at doses of 30 to 40 kGy.
3. Oxygen sensitivity of UV curing greatly reduced:
Operation of UV systems up to 1000 ppm residual oxygen possible.

Nitrogen production

through

PSA (Pressure Swing Adsorption)

as an alternative to

vaporization

possible.
Applications
Food packaging, Furniture, Floor, Automotive
The EU Regulation of 2016 calls for a specific migration limit (SML) of <10μg/kg (10 ppb) for food packaging starting at 1 January 2016. This limit is well below what we have using our method.
An upgrading of existing installations is possible. Contact us – we will find the right solution for your application.
IOT GmbH filed a patent for the process of the photoinitiator-free UV curing.

IOT GmbH Leipzig
Innovative Surface Technologies
Applications
UV - Technik
Plasma- und Ionenstrahltechnik
Silanisierung
Contact
IOT Innovative Oberflächentechnologien GmbH
Wissenschaftspark Leipzig, Gebäude 33.0
Permoserstraße 15
04318 Leipzig
Deutschland
Phone +49 341 23823 100 
Fax +49 341 23823 199
E-mail: info@iot-gmbh.de
www.iot-gmbh.de